August 28, 2009

Churchill teacher inspired by summer shark study
KRISTIN TANGEL Correspondent
EAST BRUNSWICK — A drama and film teacher at Churchill Junior High School spent part of her summer on a 10-day Earthwatch Institute expedition in Monterey, Calif., tagging sharks and rays with the Pelagic Shark Research Foundation.
Lynne Elson and six other volunteers helped scientists capture, measure and tag leopard sharks, guitar fish, thornback rays and bat rays in late July and early August, as part of a fellowship sponsored by the Geraldine R. Dodge Foundation.
Elson also made a video of the team's exploits, and plans to show it to her eighth- and ninth-grade classes this coming school year. If received well, the video will be shown at libraries and other public places.
"I love animals," Elson said. "As a teacher, before I go back to school in September, I decided that I needed an adventure."
Led by top researcher Sean Van Sommeran, the team donned wetsuits and cruised around Monterey Bay and Elkhorn Slough, netting the sharks and rays to record their size, gender and other information. They also took DNA samples from the fins, and released the marine life unharmed.
Elson said they caught 33 rays in one day. The population of sharks and rays in the region was decimated by a hunt from the 1940s to 1980s, because they were believed to be the cause of the local oyster fishery collapse. The Earthwatch Institute, a nonprofit organization founded in 1971 that runs expeditions where volunteers assist scientists with field research around the world, is studying sharks for research and education purposes. Sharks are considered an important indicator species in examining marine ecosystems as a whole, but modern fishing methods and industrial fallout have been devastating to shark populations worldwide.
Elson said she was deeply inspired by what she did, and wants to spread to her students the important messages about environmental impact that she learned on the trip. For example, she learned about the effects that littering has on marine life, and that there is a floating plastic "soup" twice the size of Texas in the North Pacific Gyre, between the major currents.
"It affects the animals, it affects our drinking water. Some little molecules get in our water," Elson said.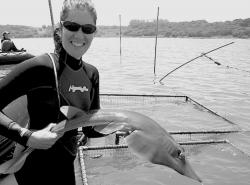 PHOTO COURTESY OF PELAGIC SHARK RESEARCH FOUNDATION Lynne Elson, a teacher at Churchill Junior High School, East Brunswick, is shown with a guitar fish during the 10 days she spent this summer studying sharks and rays off the coast of Monterey, Calif.