January 15, 2006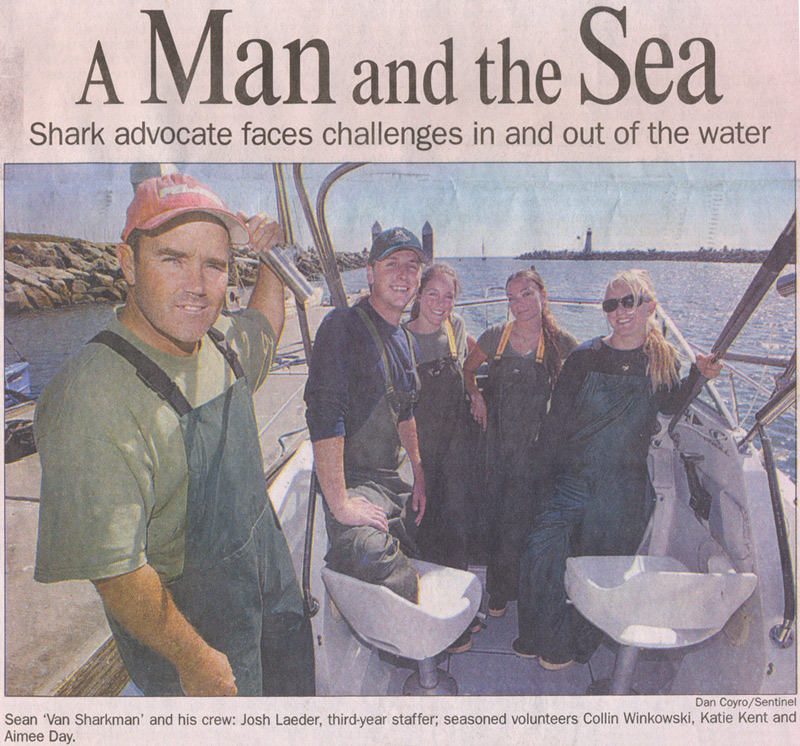 A Man and the Sea:
Shark advocate faces challenges in and out of the water
SANTA CRUZ — Sean Van Sommeran was aboard a motorized aluminum skiff in Monterey Bay 16 years ago when he noticed something disturbing. A basking shark, a 30-foot-long plankton eater, was swimming by his boat with three arrows lodged deep in its back, with only the feathers at the end protruding.
"Only this much was sticking out," Van Sommeran recalled, creating a 5-inch gap between his fingers.
Basking sharks' dorsal fins makes them look like white sharks, and their presence in the bay frightened people. But after a Sentinel article clarified the species, people descended in droves to see them. Van Sommeran claims the sharks were being harassed: sightseers were bumping their boats into them, casting fishing hooks into them even though they were far too large to reel in, jumping Jet Skis over, and even off, them, and evidently practicing archery on them.
That experience inspired Van Sommeran to take action. After consulting with the environmental activism organization Earth Island Institute, he created the Pelagic Shark Research Foundation, dedicated to the protection and study of sharks. PSRF's mission: Defend the creatures by removing some of the mystery surrounding them.
Now one of the most prominent shark advocacy organizations, PSRF has established a national reputation for its work tagging sharks to track populations and attaching transmitters to great whites to study their behaviors.
PSRF marked it 15th anniversary over the summer and recently celebrated its 100th tagging of a great white. But it's often been rough sailing for Van Sommeran and his nonprofit shark advocacy group, a collection of volunteers and selected college and high school students.
A self-described "non-credentialed knuckle-dragger," Van Sommeran considers himself a blue-collar scientist. PSRF's work has been featured in such prominent media outlets as National Geographic and Discover magazines, and the Discovery Channel and Animal Planet.
Advertisement



But some academics — including some who have worked with Van Sommeran — believe he misrepresents himself and his group to the public.

Peter Klimley, a UC Davis marine biologist who has worked with Van Sommeran, described him as "a wonderful guy," but someone who is "getting to the point where he's becoming a bit of a monster.

"He will say anything to get your attention. I think these people can be very dangerous," Klimley said in a Sentinel interview last year. "He is a self promoter — he says he has a foundation which portrays itself as a research group, which is not, and in a sense is a charlatan who portrays himself as a researcher when he is not."

Then there are those prominent marine biologists, including Bernie LeBoeuf at UCSC and Greg Caillet at Moss Landing Marine Laboratories, who've squared off with Van Sommeran and who refused to talk on the talk on the record about him.

The controversy seems to only fuel Van Sommeran's passion.

"I'm not doing this to make friends," Van Sommeran said in a series of interviews and e-mails. In defending sharks, "I'm criticizing the academics, I'm criticizing sport fishermen, I'm criticizing commercial fishermen."

Aquarium critic

Last winter Van Sommeran set his sights on the Monterey Bay Aquarium after it put a young white shark on display in its Outer Bay exhibit.

Although he never saw the shark himself, Van Sommeran lashed out against aquarium officials in newspaper articles and on the KQED program "Forum" for keeping a far-swimming fish confined in a tank. He said the confinement led to injuries incurred by the shark, arguing that the great white should have been studied in the wild rather than in captivity.

Van Sommeran's repeated calls for the shark's release were echoed by fellow activist Mark Palmer, assistant director of the International Marine Mammal Project at the Earth island Institute.

"The educational value of sharks in captivity is overrated," Palmer told Animal Planet News, pointing out the financial gains realized by aquariums that exhibit sharks.

Aquarium officials refuted Van Sommeran's accusations, insisting that the shark was being under close surveillance by veterinarians, that she was eating well and gaining weight. The wound harped on by Van Sommeran was the result of the earlier abrasion exacerbated by the shark learning her way around her new surroundings, banging against the tank.

The shark was released after 180 days in captivity, during which time the aquarium saw its attendance increase 30 percent.

Sea baby

Now 43, Van Sommeran always had close ties to the sea. The only child of second-generation fishermen, he was born and raised in Santa Cruz and started working as a "bat boy" on tuna boats when he was 12, smashing fish on the head with a baseball bat to stun them.

On busy days, the tuna would pile up on deck faster than they could be moved into the coolers in the hold, so the fishermen would just cover them with burlap bags. It was Van Sommeran's job to wash off the bags at night. He would watch as the dripping blood attracted schools of sharks, their red eyes illuminated by the boat's spotlights.

After high school, Van Sommeran looked for work that would keep him at sea — jobs like surveying rockfish and albacore populations for the California Department of Fish and Game and salmon for the National Marine Fisheries Service, tallying their length and gender to learn about their population size.

He hoped to join a shark-tagging program that was in development, but budget cuts killed any hope for the project, Van Sommeran said, and he returned to Santa Cruz Harbor, running the gas dock and working as a deckhand on charter boats.

Since he was on the water every day, he had tags sent to him and continued marking sharks in his spare time. It became a major part of PSRF's work.

PSRF was among the first to start ID tagging the nearly two dozen species of shark in the Monterey Bay, and has tagged more than 3,000 sharks over the years, Van Sommeran said.

Van Sommeran has also worked undercover with the Earth Island Institute, traveling to the Gulf of Mexico and Costa Rica to videotape evidence of shark finning and turtle poaching.

"He's done great work over the past years in public education and conservation for sharks," said Mark Berman, the institute's associate director for the marine mammal project. "We support his effort and he should continue. He is hard working, very knowledgeable about his issue and fisheries in general."

Operating on an annual budget regularly less than $20,000, according to Van Sommeran, PSRF relies on a combination of out-of-pocket contributions, grants and stipends to finance its work. Running PSRF has been a full-time, seven-days-a-week job, Van Sommeran said. And when he's done with that, he leads fishing charters or kayak trips to earn money to support himself.

"It's a real chore making ends meet every month," says Van Sommeran, who says he often couch surfs or house-sits for friends.

Science or not?

Van Sommeran insists what PSRF does is science, a claim challenged by his detractors and neutral observers.

"You're not going to learn the most tangible, applied processes in a book, or a classroom, or a lecture," Van Sommeran says. "It's not rocket science. All you need is good eyesight, a strong back, and good shipboard balance."

But it takes more than that, said David Goodstein, a professor of physics at the California Institute of Technology in Pasadena, who writes articles about scientific fraud.

"A degree says that you've put in your time, that you've devoted certain amounts of attention to the details of your profession," says Goodstein, who was unfamiliar with the ongoing conflict between Van Sommeran and academics. "As a professional, you pay attention to certain things: who you listen to, what you say, how strongly you say it.

"You can be both a scientist and an environmental advocate, but it doesn't help you with your credibility. Anyone who's an advocate of anything, any business, runs the risk of being not very objective, and that's not what a scientist is supposed to be."

To those who question his scientific legitimacy, Van Sommeran points to published research papers on which he is listed as a co-author.

But co-authorships don't necessarily make somebody a scientist, said Caltech's Goodstein, although it does help.

Van Sommeran works more as a field technician than a researcher, agrees Scot Lucas, a Department of Fish and Game biologist who is PSRF's director of research in his spare time the "Spock to my Kirk," Van Sommeran says.

"But that's kind of where I've stepped in. I'm trying to improve our ability to do more rigorous science." And, he said, "what Van Sommeran lacks in scientific learning, I think his field experience more than makes up for."

Contact Len LaBarth at atllabarth@santacruzsentinel.com.
Disputes swirl around researchers
Sean Van Sommeran's battles with those he describes as "establishment cronies" in the scientific community escalated in 2002 during a contentious legal fight over rights to scientific data.
The Pelagic Shark Research Foundation had not been credited in a short paper in the journal Nature about satellite tagging of white sharks — research aided by Van Sommeran's help with the tagging and using satellite tags funded by donations given to PSRF.
Van Sommeran filed a suit against Scott Davis, a graduate student at UCSC and lead author of the paper, who had also been a PSRF member. The paper detailed research conducted by Bernie LeBoeuf at UCSC and Barbara Block of Stanford University, along with four other marine scientists, but with no acknowledgment of PSRF's role.
The matter was resolved in mediation in 2004 after Davis sent Van Sommeran a letter of apology.
"I think it's worth it," said Van Sommeran, who gets fiercely defensive whenever the case is mentioned. "These days, it's a war."
However, there is evidence some old wounds are healing.
Stanford's Block, chief scientist of the Tagging of the Pacific Pelagics program, said members of her team partnered with PSRF in 2005 to tag white sharks. She hopes researchers "can put our differences aside" and work toward a common goal.
"We all are in the Bay Area and Central Coast working together on behalf of white shark conservation," Block said.
Van Sommeran found himself on the losing end of a decision in 2003 when the National Oceanographic and Atmospheric Administration fined PSRF $21,000 for violating conditions of its permit to lure white sharks.
Van Sommeran denied any wrongdoing and continues to contest the finding.
-- Elise Kleeman
If You Go
WHAT: Shark lecture, covering the past 15 years of research at Ano Nuevo Island and Monterey Bay National Marine Sanctuary.
Who: Sean Van Sommeran of the Pelagic Shark Research Foundation.
WHEN: Jan. 28, 2 p.m.
WHERE: Rancho Del Oso, south of Ano Nuevo Island State Park.
---
Original URL:
http://www.santacruzsentinel.com/archive/2006/January/15/local/stories/01local.htm

---
Copyright © Santa Cruz Sentinel. All rights reserved.