January 15, 2006


Seasons determine shark-tagging projects
The Pelagic Shark Research Foundation divides its tagging into three projects, which change with the seasons.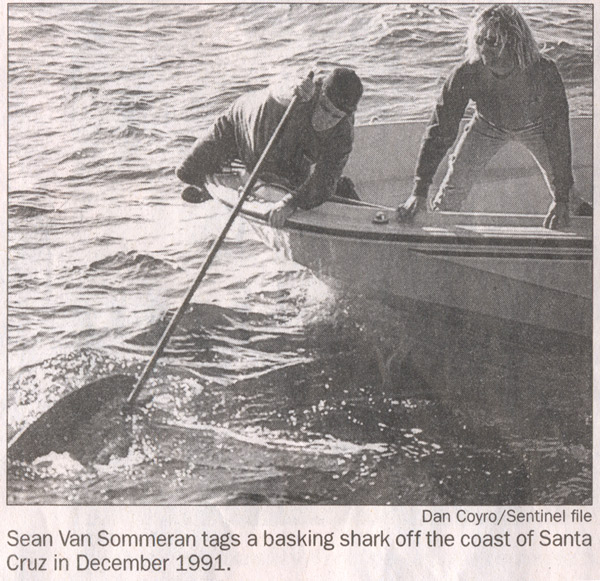 In the spring, Sean Van Sommeran and PSRF volunteers, mostly college students, don wetsuits and wade into Elkhorn Slough. Using fine nets, they trap and tag small sharks and rays.
Summer is blue shark season. Van Sommeran and crew members board his boat and head out to one of three sites around Monterey Bay.
There, "we throw over a piece of bait on a line to tease them next to the boat, net them and wrestle them on board, tag them, take blood — all in five minutes," explained Van Sommeran.
Fall and winter are devoted to white sharks. The toothy fish in the waters around Ano Nuevo Island are lured near Van Sommeran's boat with a seal-shaped piece of plywood and a 15-pound chunk of seal or whale meat on a line. Van Sommeran then uses a needle on the end of a bamboo lance to thread a tag through the base of their doral fin.
He makes it sound easy, but his right arm suggests otherwise; four white semi-circles bear proof of his encounters with two leopard sharks, a bat ray and a blue shark.
-- Elise Kleeman
---
Original URL:
http://www.santacruzsentinel.com/archive/2006/January/15/local/stories/02local.htm

---
Copyright © Santa Cruz Sentinel. All rights reserved.