Local News

September 13, 2007


Distance paddler wages quiet war on ocean pollution
SANTA CRUZ — Tom Jones held up a little toy shovel, its plastic colors bleached by sun and salt water, and said it was an icon symbolizing both the problem and the solution.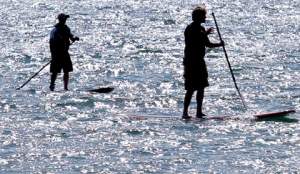 Tom Jones, left, is escorted by a local paddler as he nears the entrance of the Santa Cruz Harbor Wednesday after paddling from Scott Creek. (Shmuel Thaler/Sentinel)
"This is good news and bad news," said Jones, an extreme endurance athlete who's paddling the length of the California coast in an effort to raise awareness about the extent of plastics in the ocean.
The toy plastic shovel like the one he found Wednesday, as well as tons of other plastic debris, is polluting the ocean, but the children set to inherit the environment are the solution, said Jones, 44, of Huntington Beach.
Jones and a phalanx of local supporters paddled or boated into Santa Cruz harbor Wednesday, after starting the day at Scott Creek and paddling 171/2 miles.
Calling his endeavor California Paddle 2007, Jones is seeking to set a world record and become the first person to paddle the entire 1,250-mile coast of California on a 14-foot paddleboard.
Various fellow paddlers or well-wishers are accompanying Jones for short distances of his journey, which began at California's northern edge five weeks ago.
"He's got determination," said local surfer Dave King, who paddled with Jones Saturday from Pompanio State Beach to Pigeon Point and again on Wednesday into the harbor. "I think he's capable, and it's for a good cause"
During Jones' endeavor, he's accompanied by crew members on personal watercraft, and logistical support that also includes a motor home and truck. Each day, he finds the spot where he stopped paddling the day before using GPS data. So far, he's traveled 250 nautical miles, he said.
Advertisement



The rough conditions around California's remote points and capes has made the journey challenging at times. But Jones is encouraged by what he says is a growing momentum and awareness of his movement as he heads south.
"I just take it one paddle at a time," he said.
Contact Gwen Mickelson at gmickelson@santacruzsentinel.com.