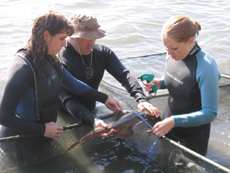 ELKHORN - The 3,000-plus-acre Elkhorn Slough has long been a protected natural habitat for a diverse array of birds, fish and other forms of wildlife. And when a hiker stumbles upon the Pelagic Shark Research Foundation group in wetsuits, stringing nets across a channel, it's usually the last thing they expected to see.
The nonprofit organization, founded by CEO and executive director Sean Van Sommeran, has been studying sharks and rays in the slough since the mid '90s.
"I may not be a scientist since I didn't go to school, but the stuff I teach you can't learn in the classroom," Sommeran said. "I mean, you can learn aviation by going to school and learning all you can through books. But how can you expect to fly unless you actually start the plane and lift it up off the runway?"
Starting on weekends in April, the group strings a net across a designated channel and waits for a small twitch or tug. After the shark or ray bumps the net, it is quickly untangled and slipped into a mostly submerged, open-top net cage. After measuring its length and width, the shark or ray is tagged and released back into the water.
The group hopes to gain further understanding on the fluctuation in numbers and to garner further scientific data on both populations.
Josh Laeder, a biology student at UC Santa Cruz who's in his second year with the group, said he tries to make it out to the slough at least once a week.
"I enjoy (being at the slough). It's not only fun, but I get the field research experience that I need," Laeder said.
The PSRF also performs research on several types of sharks, including basking, benthic, blue and mako sharks, and has tagged more than 100 great white sharks, a number Sommeran believes is a record in the Western Hemisphere.
The group has been published in numerous magazines and newspapers, such as National Geographic, TIME magazine, the San Francisco Chronicle and the LA Times. It has also appeared many times on TV, most recently on the Discovery Channel's Shark Week, and has been featured on the BBC channel, Animal Planet and CNN.
"I might have the most under-funded staff," Sommeran said. "But we're still busy all the time."
On average, the foundation trains and works with at least 50 individuals annually and has counted two dozen so far this year. It has also given field experience to veterinarians, marine science professors and State Fish and Game officials.
"I've trained Ph.Ds from a number of different countries, and worked with all the big names within the state pretty much. Some of the institutions that don't have anything good to say about us, we've actually done work for them in the past," Sommeran said. "It seems like the more ground you cover, the more resentment you encounter."
The group is willing to give hands-on experience to any high school, college or graduate student who shows a willingness to learn.
"If there is someone who wants to learn more then they can with books, we can help teach them," Sommeran said. "I mean there is book smarts, but there isn't anything like having the field experience to back it up."
"(Catching rays and sharks) is exciting," first-year student Anton Horwath said. "And it's only my second day."
On Saturday, the group caught and released more than 80 thornback rays, all female. Sunday's haul was quite a bit less - only 10.
"It may be hit or miss out (in the slough)," said Matt Gardner, a10-year veteran of the PSRF who serves as the science officer. "But it's still fun working with sharks."


İRegister-Pajaronian 2004