Aņo Nuevo Island White Shark Study
Methods:
Plotting Predatory Behavior with GPS/GIS
Using handheld Global Postitioning System (GPS) and Global Information System (GIS) units, the research team plots/notes the coordinates of all observed predatory events and/or interactions.
Over time plots of these events have shown patterns in regard to feeding events in areas with high pinniped traffic. Overlay of this data with bathymetric information is an excellent way to map out and understand how the sharks and their prey species are utilizing the site. Over time, data points and plotted predations can provide a great deal of information.
Likwise, each lure contact is plotted as are random spontaneous observations.
At each predatory event the sex and generational category of the prey species is noted, as well the shark or sharks involved are photo ID'd, tagged if possible and the sex and generational category is noted. Often times certain individual sharks are consistantly observed in particular areas.
The rocky bottom around the island makes for productive areas with much marine life and kelp beds and washrocks.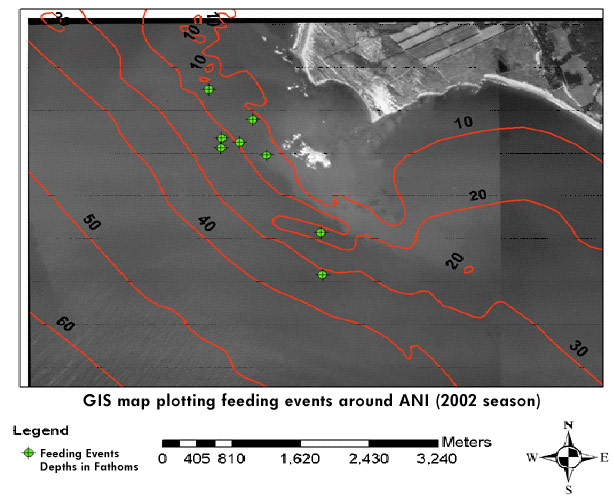 Charted by PSRF staffer Jeff Reinhardt.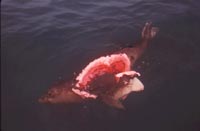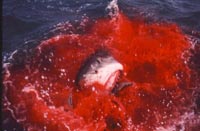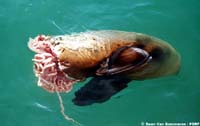 Above, from left: Northern Elephant Seal; Pinniped Predator; California Sealion back to Aņo Nuevo Island research page